Friday, August 12
The Boat | 9:00 PM
Dracut MA
Facebook Event Page | Advance Tickets or general admission at the door.
Sunday, August 21
Monsters on the Mountain 2022 at Gatlinburg Convention Center
Gatlinburg TN
Facebook Event Page | Tickets


SIGN UP for the Shot of Poison / Rock Stage Productions e-mailing list.
--> MAILING LIST SIGN-UP FORM <--


Or TRACK US using the BandsInTown service to get auto-notified when we add a show in your area.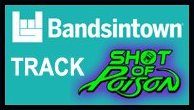 •
BLABBERMOUTH
:
Bret Michaels performs with Shot of Poison in Massachusetts
•
WikiRock
:
Bret Michaels Sings with Poison Tribute Band
•
15 Minute News
:
Bret Michaels performs with Shot of Poison in Massachusetts
•
NewsKudo
:
Bret Michaels Performs with Poison Cover Band
•
Soth.Genzel.ca
:
Bret Michaels was joined by ... Shot of Poison on stage
•
E! ONLINE
:
Bret Michaels' Doppelganger on Clash of the Cover Bands Will Make Your Jaw Drop
•
LOUDWIRE:
Bret Michaels Invites Shot of Poison to Perform with Him
•
WMMR
Philadelphia:
Bret Michaels Extends Invite to Poison Cover Band
•
YAHOO NEWS JAPAN
:
Bret Michaels Gives Support and Gift to Poison Tribute
•
TV GRAPEVINE:
Bret Michaels Surprises Poison Cover Band
•
PEOPLE
:
Clash of the Cover Bands is Coming: Meet the Contestants
•
MSN
:
New England's Shot of Poison Competing in E!'s 'Clash of the Cover Bands'
•
RADIO WORCESTER
:
Clash of the Cover Bands with Frank Pupillo of Shot of Poison
•
E! ONLINE
:
Meet the Fierce Clash of the Cover Bands Contestants
•
WORCESTER TELEGRAM
:
Worcester's Frank Pupillo keeps it real on TV's 'Clash of the Cover Bands'